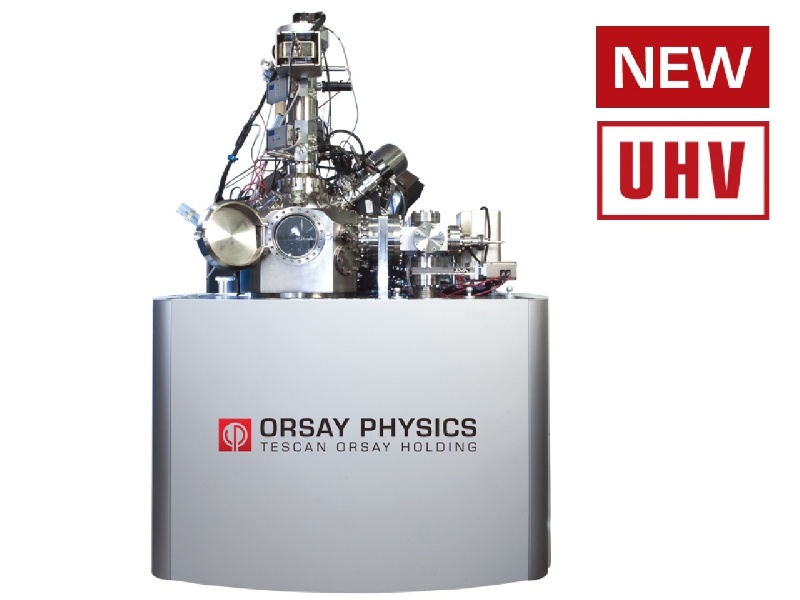 UHV FIB-SEM NanoSpace
For ultimate performances
at Ultra-High Vacuum
NanoSpace is a conveniently versatile system specially designed to operate under Ultra-High Vacuum (UHV) conditions. NanoSpace can be configured either as a Scanning Electron Microscope (SEM) or as a dual beam platform combining a SEM and a high performance Focused Ion Beam (FIB). This UHV instrument is developed with a modular architecture allowing a large choice of SEM and FIB columns that matches end-users specific needs and goals. NanoSpace offers the best, complete and customized solution for FIB nanomachining, surface analysis, on samples demanding the most rigorous contamination-free environment.

NanoSpace can also be equipped with a UHV compatible Gas Injection System (GIS) for local metal deposition and selective etching.

In-situ connection to third party systems such as MBE clusters, surface analysis instrument, is also possible through a UHV intermediate chamber. This connectivity broadens NanoSpace application scope.
Vacuum Performances


Main Chamber Vacuum

5.10-10 mbar


UHV Configuration


Maximum instrument bakeout
temperature is 120°C


Sample Main Chamber Introduction


30 min

1




Full UHV design - Contamination free
environment
NanoSpace is the first UHV designed FIB-SEM instrument,
fully bakeable to reach ultimate vacuum level


2

Fully customizable system
UHV NanoSpace can be customized in order to completely
fulfill specific needs. Total flexibility is given in selecting
the FIB column, the SEM column, Gas injection systems
and others add-on accessories depending on the request


3

Designed to perform high quality


surface analysis
Excellent conditions and unique dual beam geometry allow
correlation of in-situ SEM and high quality Secondary
Ion Mass Spectrometry images in a single instrument

4

High resolution imaging
NanoSpace can integrate either an electrostatic SEM or
a magnetic SEM which both produce high quality images


5

Accurate sample control


The UHV compatible 6-axis stage allows to load samples
with dimensions less or equal to 100 mm in length and width


6

Fully automated instrument


The NanoSpace control and imaging software is highly
ergonomic and easy to use. Vacuum system is fully
automated to ensure safe, fast and easy vacuum operations

7

UHV connection
A UHV intermediate chamber is designed to ensure the
instrument complete connection with UHV third party
systems, process cluster or synchrotron beam line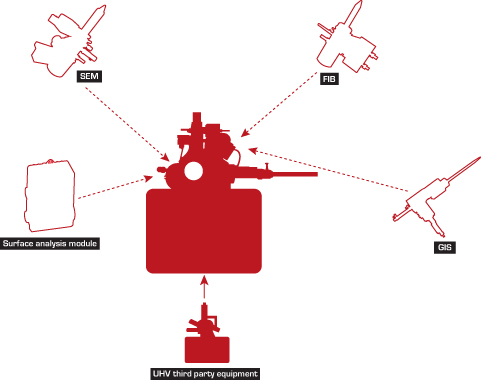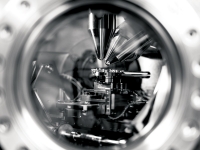 Inside NanoSpace UHV chamber
---